NEWS

Michael's Kickstarter project succesfully raised funds to release Soul Journey onto vinyl. The all-analog audiophile double LP set is now available for sale exclusively through michaelweiss.info
In November, 2019 Michael toured Italy and performed as the guest soloist for London's Bopfest.
In October, 2019 Michael presented a master class at the Hartt School of Music.
In April, 2016 Michael's quartet toured New England.
In January, 2016 Michael prepared arrangements and performed in a tribute to Frank Wess at the Kennedy Center.
In November, 2015 Michael revisited his sextet book with performances at Smalls.
In November, 2014, Michael led a quintet in tribute to Bud Powell.
In April, 2014 Michael toured Michigan giving master classes and concerts.
Following his appearance at the 2013 Detroit Jazz Festival, Michael was interviewed by Jason Crane for his blog The Jazz Session. Listen. Michael was also interviewed by Brian Pace for his video The Pace Report. Watch.
Michael talks about Buddy Montgomery with Ted Panken.
A feature interview with Michael appears on Steve Cerra's wonderful blog Jazz Profiles.
In 2011, Barry Harris commissioned Michael to transcribe more than 70 of his compositions for future publication.
Michael's transcription of Thad Jones' original big band arrangement of "Mean What You Say" has been prepared in Sibelius and will be available for purchase by download shortly.
Michael comments about Johnny Griffin for NPR's "Johnny Griffin: In Memoriam" which includes a Village Vanguard broadcast from 2000.
July 25, 2008: RIP Griff! Doug Ramsey's wonderful blog, Rifftides is hosting Michael's essay, Reminiscing About Johnny Griffin. The following September Michael produced and performed in a tribute to Johnny at NYC's St. Peter's Church. Performers and speakers included Lou Donaldson, Jimmy Heath, Cedar Walton, Ben Riley and Ira Gitler.
For his third engagement as a leader at the Village Vanguard, Michael led a trio with Peter Washington and Lewis Nash in April, 2008.
In October, 2007, Michael presented a clinic at JazzImprov's convention entitled Get More Out of Your Tunes: Transform Your Basic Songs Into Full-fledged Compositions That Create a Richer and More Personal Musical Expression
After a successful debut in October of 2006, Michael returned to the Village Vanguard the week of March 27 - April 1, 2007 with his current quintet, which includes Steve Wilson, Ugonna Okegwo, George Fludas and Daniel Sadownick. Immediately after the week, the quintet laid down several new tracks at Bennett Studios. More recording planned for 2007.
In addition to his piano work, Michael's composition Power Station is included on Frank Wess' recent CD, Body and Soul (M&I).
A full length interview with Michael appeared in the Spring, 2005 issue of Jazz Improv magazine.
The Winter, 2005 issue of Piano Today includes the music to Soul Journey with accompanying commentary. Michael contributed an article about Wayne Shorter's influence on his composing, together with the music to his piece, El Camino in the Spring, 2004 issue.
By arrangement with D'Accord Music, Michael's transcription of Thad Jones' original arrangement of Mean What You Say is available for sale exclusively through Michael. Email for more information.
As a 2004-2005 grant recipient of Chamber Music America's Residency Partnership Program, Michael brought jazz music to the Brooklyn P.S.321 fifth grade class through a series of workshops and concerts.
Michael was featured in the April, 2004 issue of Hot House magazine.
Michael is a recipient of Chamber Music America's New Works: Creation & Presentation grant for 2002-2003. The commissioned work, "Three Doors" debuted in November, 2003.
Soul Journey, Michael's long awaited CD project was released March 4, 2003 on Sintra Records. Incorporating the best musical and engineering talent, Michael was able to fully realize his vision without compromise. The nine original compositions included, arranged for sextet and percussion, have developed over several years, taking on greater complexity and refinement. Inspired by Wayne Shorter's groundbreaking High Life, Michael began incorporating elements of the rock and fusion background of his youth into his compositions, as well as shifting the balance of composition and improvisation into a more complex integration of the two.


SOUL JOURNEY

Michael Weiss - piano, Fender Rhodes
Steve Wilson - alto saxophone
Ryan Kisor - trumpet and flugelhorn
Steve Davis - trombone
Paul Gill - bass
Joe Farnsworth - drums
Daniel Sadownick - percussion

Produced by Michael Weiss
Recorded and mixed by Joe Ferla at Avatar Studios, New York
Mastered by Paul Zinman at Soundbyte Productions, New York

One composition from Soul Journey, "El Camino," won Michael the 2000 Thelonious Monk International Composers Competition, sponsored by BMI. Weiss performed it after accepting the award at the Kennedy Center. Read all about it on BMI's website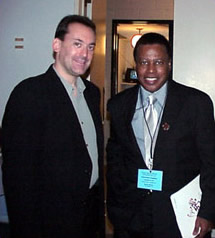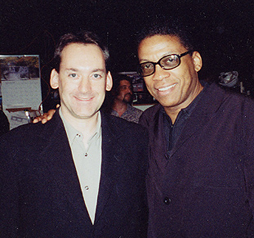 Michael with Wayne Shorter and Herbie Hancock at the Kennedy Center